Shimai Medical's high-end cart-type SM60 series color ultrasound adopts advanced algorithms, highly integrated hardware design, and accurate transmission and receiving technology, and is equipped with high-quality scanner probes with 128 or more channels. The advantage of high-frequency ultrasound is that the operation is relatively simple, non-invasive, and can be used multiple times. In the case of ensuring excellent image quality, while processing more channels to improve picture quality.
15inch high-resolution screen display brings winder visual angle and clearer image. It can rotate up, down, left and right freely, tilt, rotate and adjust the height simultaneously with the operation panel; It has two-dimensional gray-scale imaging components, color Doppler ultrasound diagnosis, pure pulse inversion harmonic, high-resolution color blood flow imaging technology and other functions; capture low speed blood flow, and accurately display disease diagnosis of superficial organs. providing timely and accurate guidance for patients' treatment adjustment, with excellent clinical performance.
Advanced imaging technology:
pulse inverse harmonic Imaging tissue doppler Imaging tissue harmonic Imagingone-key optimization technology real-time 3D/4D Imaging 
anatomic M-mode, color M-mode wide-field Imaging fetal growth curve analysisautomatic measurement of the inner membrane of the cervical blood vessel 
fully quantized multi-core digital parallel processing system 
adaptive speckle noise suppression technology 
all digital oversampling techniques
Ergonomic design: 
Intuitive self-defined function keys User-friendly front USB design High-definition anti-glare display Back-lit key &task assigned control panel
Digestive system thyroid, urinary system, breast 
gynecology, blood vessels, obstetrics, musculoskeletal nerves, lumen, lymph nodes, cardiac, genitalia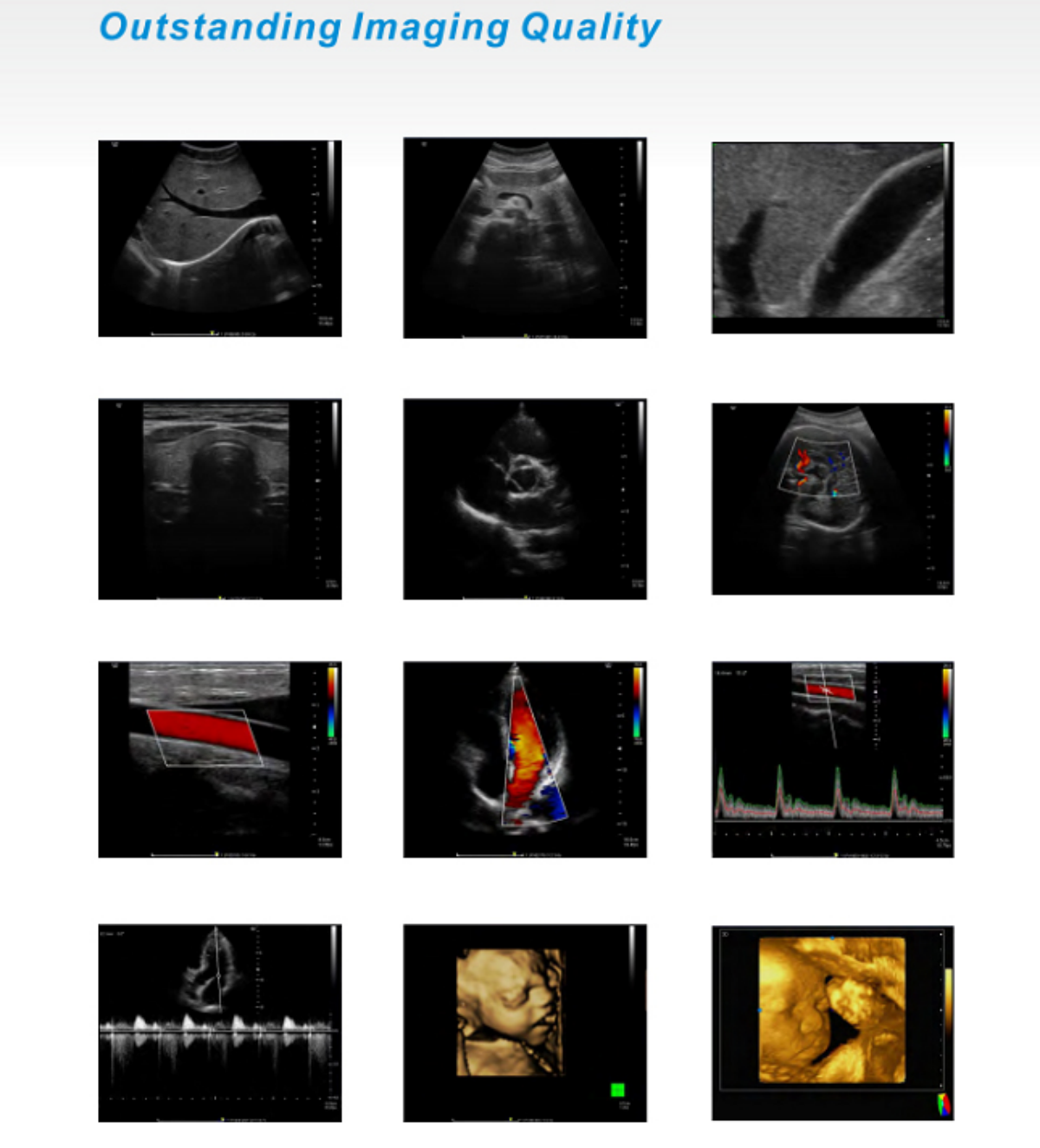 Configuration:
15' LCD display, screen resolution 1024x768
Screen aperture range 0-180 degrees, side view angle: 85 °or more.
4 universal wheels
Digital multi-beam forming technique
Support Chinese、English、Spanish、French、Portuguese 、Russian languages
Probe connector:3 versatile ports
Probe frequency:2.0-13.0 Mhz
Intelligent one-key image optimization
Imaging model:
Basic Imaging Model:B、2B、4B、B/M、B/Color、B/Power Doppler、B/PW Doppler、B/CW Doppler、B/Color/PW
Other Imaging Model:
3D/4D imaging(Optional)
Anatomic M-mode(AM), Color M mode(CM)
PW Spectral Doppler, CW Spectral Doppler
Pulse inverse harmonic imaging
Spatial compound imaging (SCI)
Tissue specific imaging
Trapezoidal imaging
Color Doppler imaging
Power Doppler imaging
Spectral Doppler Imaging
Tissue Harmonic Imaging (THI)
High pulse repetition frequency imaging (HPRF)
Wide-field imaging (WFOV)
Panoramic Imaging
Others:
Input/output Port:
S-video/VGA/Video/Audio/HDMI/LAN/USB/DVD port
Image and Data Management System: 
Built-in hard disk capacity: ≥1T
DICOM: DICOM, DICOMDIR
Cine-loop:AVI;
Image: JPEG, BMP,TIFF;
Report:PDF;HTML;RTF
Power supply:100V-220V~50Hz-60Hz
Package: Net Weight: 50KGS  Gross Weight:100KGS  Size:970*770*1670mm