Portable color ultrasound, also known as portable color ultrasound, is a kind of medical equipment suitable for carrying out inspection business. Portable color ultrasound is often equipped in ambulance, health examination car, car
CT car. It is convenient for medical staff to carry out door-to-door health examination business, as well as to carry out free emergency rescue in rural areas. Shimai portable color ultrasound examination of all parts of the whole body organs is especially suitable for dry heart, limb blood vessels and superficial organs as well as abdomen, maternity and other medical equipment for examination and diagnosis. Color ultrasound not only has the advantages of two-dimensional ultrasonic structure image, but also provides rich information of hemodynamics. The practical application has been widely valued and welcomed, and is known as "non-traumatic angiography" in clinical practice.
15 Inch resolution LCD display
High precision dynamic focus imaging
Speckle noise reduction technology
New image enhancement technology
Pulse-inverted tissue harmonic imaging
Multi-beam parallel processing
Automatic trace on Pwfrequency map
Two USB ports is more convenient
Large capacity built-in battery
Support DICOM 3.0
Intelligent one-key image optimization
Control panel is backlighted, waterproof and antisepticised
Obstetrics, Cardic, Abdomen, Gynaecology, Blood vessels, Muscles and bones, Thyroid, Breast ,Small organ ,Urology Etc.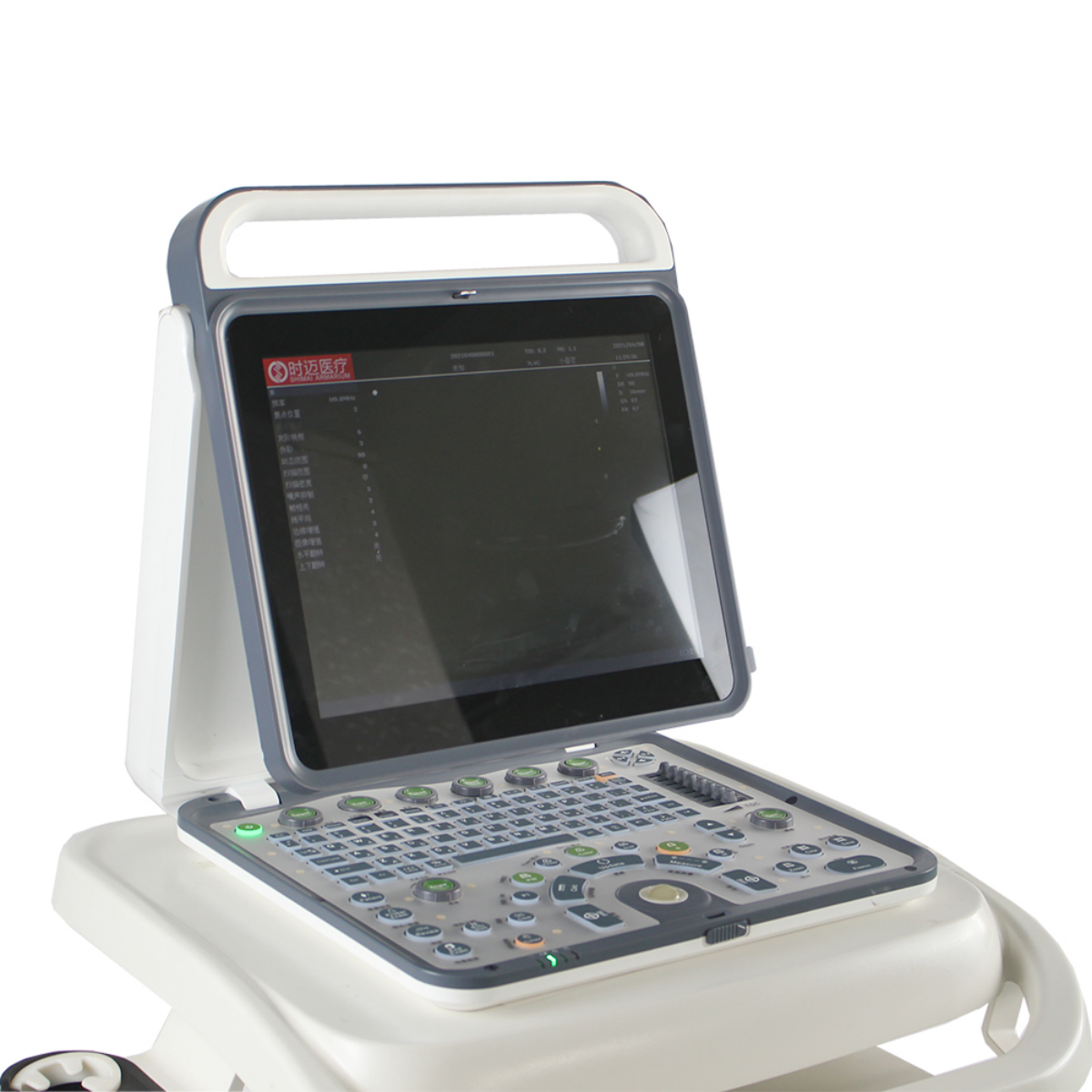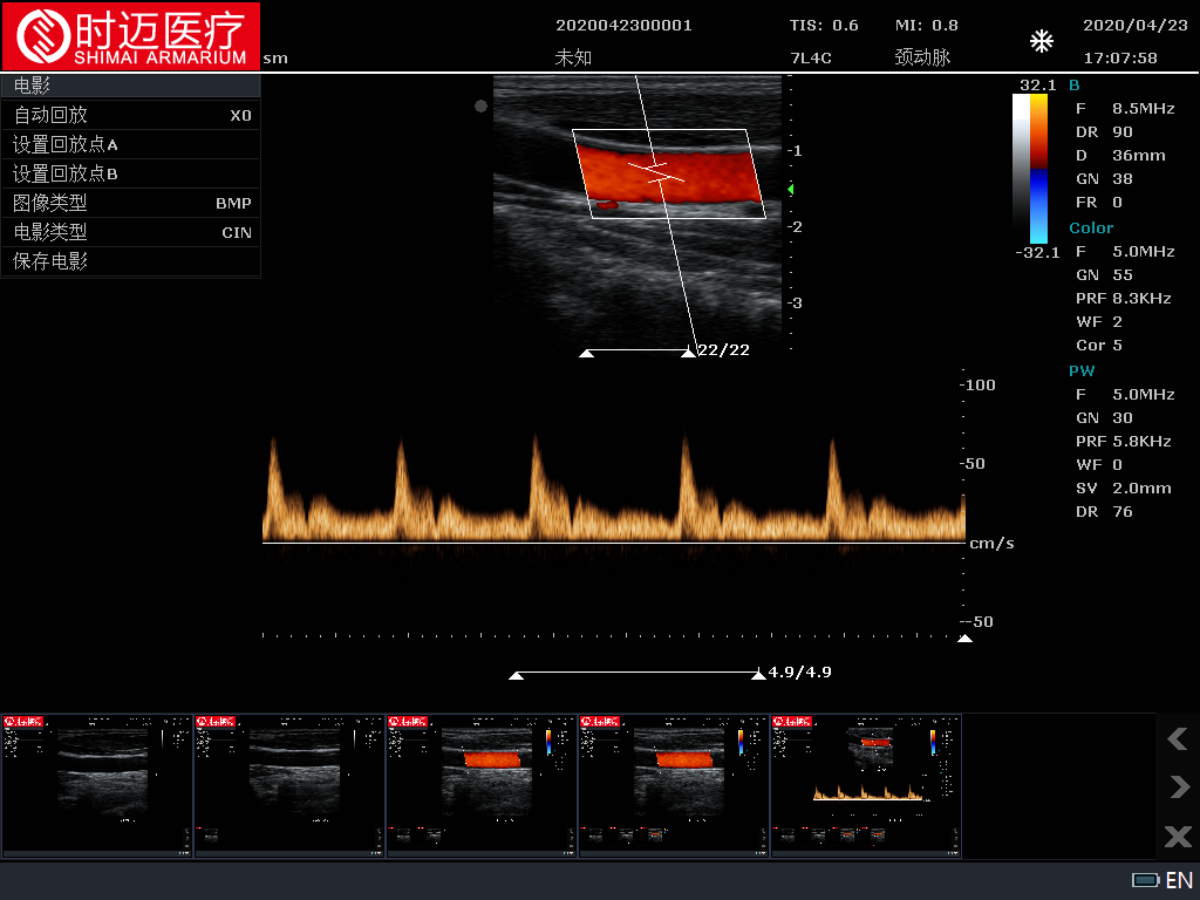 Configuration
15' LCD display,high resolution screen
Technical platform:linux +ARM+FPGA
Physical channel: 64
Probe array element: 128
Digital multi-beam forming technique
Support Chinese、English、Spanish、Czech、German、French、Russian languages
Probe connector:2 versatile ports
Intelligent one-key image optimization
Imaging model:
Basic Imaging Model:B、2B、4B、B/M、B/Color、B/Power Doppler、B/PW Doppler、B/Color/PW
Other Imaging Model:
Anatomic M-mode(AM), Color M mode(CM)
PW Spectral Doppler
Color Doppler imaging
Power Doppler imaging
Tissue Harmonic Imaging (THI)
Spectrum Doppler imaging 
Spatial Compound Imaging
Frequency composite imaging
Tissue Doppler Imaging(TDI)
Harmonic fusion imaging(FHI)
High precision dynamic focus imaging
Pulse inverted tissus harmonic imaging
Others:
Input/output Port:
VGA/Video/Audio/LAN/USB port
Image and Data Management System:
Built-in hard disk capacity: ≥500 GB
DICOM: DICOM
Cine-loop:CIN,AVI;
Image: JPG, BMP,FRM;
Battery: Built-in large capacity lithium battery
Power supply:100V-220V~50Hz-60Hz
Package: Net Weight: 8.2KGS  Gross Weight:10KGS  Size:530*530*460mm
Imaging Processing:
Pre-processing:
Dynamic Range
Frame Persist
Gain
8-segment TGC adjustment
IP (Image Process)
Post-processing:
Gray map
Speckle Reduction Technology
Pseudo-color
Gray Auto Control
Black / white invert
Left / right invert
Up / down invert
Image rotation at 90° interval
Measurement & Calculation:
General measurement:distance, area, volume, angle, time, slope, heart rate, speed, flow rate, stenosis rate ,pulse rate etc.
Specialist analysis software packages for obstetrics, heart, abdomen, gynaecology, blood vessels, muscles and bones, thyroid,breast, etc.
Bodymark、Biopsy
IMT auto-measurement
Portable ultrasonic diagnostic instrument is small in size, the cart design is convenient to move and lift, can move and place at will, easily meet the inspection under different conditions like intensive care unit, operating room, emergency department and so on, can arrive at the bedside of patients in a short time, to solve the critical patients, emergency patients, operating room patients and other patients with mobility loss of difficult inspection problems. It provides better and faster assistance for timely clinical diagnosis, greatly reducing the patient's treatment time and the risk of injury caused by moving, and can be carried out simultaneously with other clinical diagnosis and treatment measures, bringing great benefits to critically ill patients in the hospital and patients who are inconvenient to move.
At the same time, it is easy to carry, clear image, easy to operate and other characteristics, more and more by the needs and recognition of medical institutions.